Posts Tagged 'vice'
Tuesday, September 23rd, 2014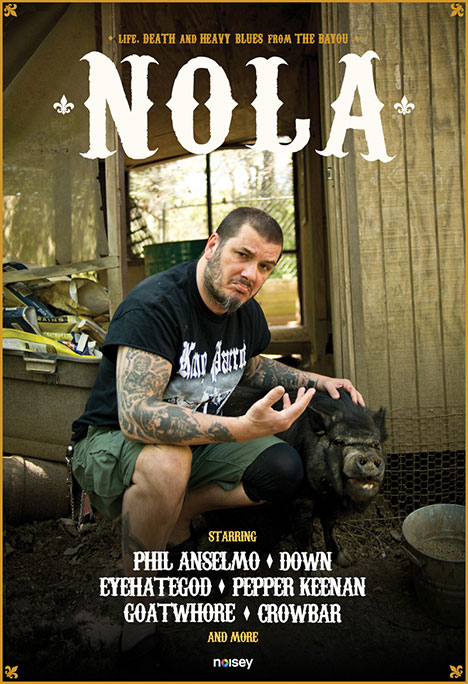 I edited the documentary series NOLA: LIFE, DEATH & HEAVY BLUES FROM THE BAYOU, produced and directed by Jimmy Hubbard and Fred Pessaro for NOISEY and hosted by Fred Pessaro and Jake Boyle.
Starring: Members of DOWN, Pantera, Eyehategod, Crowbar, Corrosion of Conformity, Goatwhore, and Acid Bath amongst others, including Philip H Anselmo, Mike "IX" Williams, Jimmy Bower, Kirk Windstein, Pepper Keenan, and Sammy Duet.

EPISODE 1: New Orleans native Phil Anselmo exports his style to Dallas band Pantera, thereby changing the landscape for metal in the 90s. Meanwhile, a visit from the Melvins to the New Orleans area would change the landscape for metal as we know it, with Kirk Windstein of the band Shell Shock was discovering that slower was, for him, heavier.

EPISODE 2: Mike Williams discusses finding kindred spirits in Jimmy Bower and Joey LaCaze, creating a band "that's like Sabbath, but a punk band" with Eyehategod. Enduring hardships like drugs and Hurricane Katrina, Eyehategod persevered into 2013, only to have tragedy strike yet again.

EPISODE 3: On a fishing trip with the Noisey team, Jimmy Bower discusses his come up with Shell Shock, the origin of Eyehategod and his place in the sound of New Orleans, including where he thinks the roots of the music lie.

EPISODE 4: From the shrimp boats to zydeco to the cocaine tray, Sammy Duet and Kirk Windstein talk about influence from the crescent city starting in their childhood until now. Acid Bath breaks into the New Orleans scene with a killer work ethic, but Sammy's discovery of Darkthrone leads to an entirely different path.

EPISODE 5: New Orleans native and Graveyard Rodeo member Pepper Keenan leaves his hometown for Corrosion of Conformity, which would become one of the most sought after bands of the 90s by mixing southern-influences with classic heavy metal.

EPISODE 6: Despite tragedy surrounding the band and their native city in the wake of Katrina, Down rises again to new heights with their new LP and subsequent tour.

EPISODE 7: Phil Anselmo opens up his home for a crawfish boil with the Noisey crew. Meanwhile despite tragedy and significant loss, the natives of New Orleans will not waiver in their fight to write the best riff, and song in the history of their city.